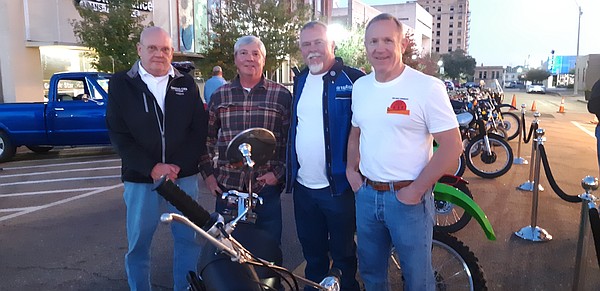 Four Biker Friends Help Celebrate 'On Any Sunday' 50th Anniversary
TEXARKANA, Texas – Vintage motorcycles, including some of the now rarely seen "mini motorcycles" produced by Honda, were on display outside the Perot Theater on Saturday, celebrating a screening of motorcycle culture classic, "On Any Sunday." This film has served to captivate a whole generation of bikers by showing another facet of this culture, less "Wild Bunch" and more conducive to family travel and adventure.
James Bramlett, Market President of Farmer's Bank and Trust, was the main driver of this exposure in Texarkana. He was there with the original screening of the film in 1971.
"I saw it at the Oaklawn cinema," he said. "I saw this movie, I fell in love with motorcycles. I'm always excited to talk about it."
At 64, he still rides with the same riding team he formed at the time.
Donny Daniel of Texarkana, Arkansas, works for Gregg Orr, primarily managing the New Boston lot. But in his free time, he gets away from cars and gets on a motorcycle.
"Beating on a bike," he said. "I love those old bikes. The experience of riding and riding. I saw the movie in Oaklawn, rode a motorbike to the movies, actually. The movie is pretty accurate, depicting the mode of cycling life. "
Randy Rape, another band member and Navy veteran, also rode the entire time. From Hooks, Texas, he also saw the movie at the Oaklawn Theater in Texarkana. Since then, he enjoys cycling.
"I love it," he said. "I've been riding my whole life and own my own bike shop, the Cycle Zone on 7th Street. And I'm telling you, if you haven't ridden a motorcycle, you just don't know what you are doing. lack."
Glenn Fricks, the fourth member of the group, from Texarkana, Arkansas, also saw the original release. He owned one of the Honda mini motorcycles before seeing the movie. And now, because it's a classic, he wished he could hang on to it.
"I saw the joy of riding in this movie," he said. "I knew this feeling before I saw the movie. The love of the sport keeps me riding, which I have been doing since I was six."
("On Any Sunday" will be screened again at the Perot Theater at 2 p.m. today.)